Discover a new level of comfort with our expertly crafted low-top canvas shoes. Designed to provide all-day comfort, these shoes will keep your feet feeling fresh and happy no matter where your adventures take you.
However, our shoes are not just about comfort, they are also built to last. Constructed with high-quality materials and sturdy craftsmanship, Elvis Presley Low Top Shoes is made to withstand the test of time. Enjoy long-lasting wear and reliability as you step through your day in style. It's time to stride confidently and embrace the comfort of personalized footwear.
Elvis Presley Low Top Shoes Description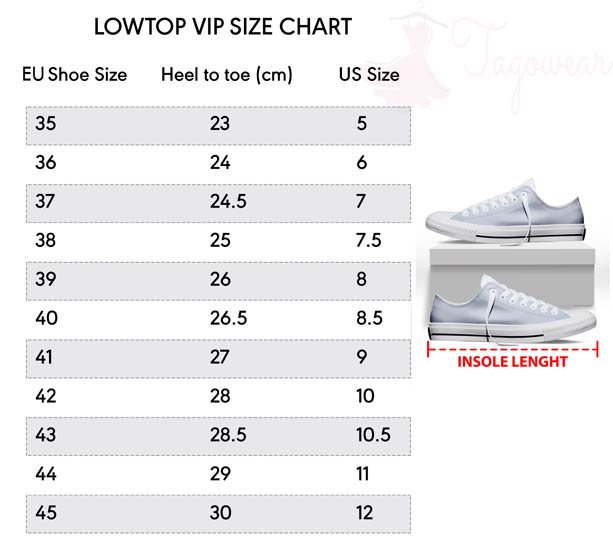 Key Features:
Versatile and timeless, our canvas shoes are suitable for a wide range of occasions including school, work, parties, and shopping.
Their classic style and high-quality materials make them a reliable companion throughout your life's journey.
Product Information:
Experience ultimate comfort with a lightweight design and soft textile lining.
Enjoy excellent durability with a rubber outsole that ensures long-lasting wear.
Elvis Presley Low Top Shoes features a double-sided, full-canvas construction with a rounded toe and metal eyelets for a timeless appearance.
We take full responsibility for any costs related to bottom breakage, degumming, damage, significant color difference, or serious stains.
Our low-top sneakers feature eye-catching dye-sublimation printing that adds a touch of style to your stride. To keep them clean, simply wash with water and soap for easy maintenance.
See more: Stan Smith Shoes
Please Note:
Allow for a slight dimension discrepancy of 1-3 cm, as the sizes were measured by hand.
The actual color of the item may slightly differ from the visual representations due to variations in monitors and lighting conditions.
Please note that shoe boxes are not included with the product.
Embrace the unparalleled comfort and timeless style of our low-top shoes. Step into a world where comfort meets durability, and where personalized footwear takes you to new heights.
If you have any further inquiries or require assistance, please feel free to contact us.
Home Page: Tagowear